DAY 4 : SASQUATCH! Music Festival 2011 – Monday [5.30.11]
I missed Wavves on Monday morning, much to my irritation.  Essentially the recording project of Nathan Williams, his onstage persona is both entertaining and funny.  Like his music, Williams comes across as self-loathing, self-deprecating, and… kind of a dick.  He's a playful dick, but a dick nonetheless, and his simple, lo-fi pop-punk relies heavily on his intriguing personality.  I saw him perform in Portland back in February and he played a far better show than his girlfriend/opening act, Bethany Cosentino of Best Coast.
Aside from my annoyance at missing a band that I enjoy, it did enable me to discover something new.  I saw Givers instead, going in with minimal background on them as a band.  The Dirty Projectors helped to launch their career and it makes sense in sonic terms.  They play similarly inclined complicated prog-pop, full of shifting rhythms and male-female vocal interplay, but with more of an Afro-pop influence.  They seemed incredibly young and full of energy, playing their hearts out despite having a very small turnout, even for an early set.  It was loud yet relaxed and the right show at the right time.  They're a band that I've been looking into and enjoying since the festival.  Their debut album, In Light, just came out on June 7th.
After the pleasant surprise of Givers, the reason that I was hanging out at the Bigfoot stage in the first place showed up.  Twin Shadow's Forget was one of my favorite albums of 2010.  Musically, it updates Depeche Mode and other similar 1980s pop-rock.  Lyrically, it's a different beast all together.  It plays like frontman George Lewis' lucid dream, a series of stories recapping surreal events from his bizarre childhood experience.  It's incredibly groove-based music, with drums and bass sitting deep in the pocket and guitar and keyboards painting highlights across their bouncing surface.
I saw them live about a month ago at The Crocodile in Seattle and had been craving it ever since.  The songs take on a new life on the live stage, building far more and becoming crushingly loud, especially "Castles in the Snow" and "Slow."  Everything hits harder.  George Lewis easily commands any crowd that he stands in front of, holding them in his hand with both his twisting narratives and grooving music.  It's subdued, yet incredibly exciting, and he plays with an almost cocky confidence.  He's good and he knows it.  They performed one new song that was hardly much different than their typical sound, but did show some sense of artistic evolution.
In my post-Twin Shadow euphoria, I headed into the press tent to charge my phone and caught some of Head Like A Kite, while I was there.  They play pretty basic electro dance-pop with an aggressive bent to it.  It comes off as gimmicky, especially live.  The frontman jumped around in a red one-piece suit and a furry scarf; a bundle of forced energy.  He put in an incredible amount of physical effort and still managed to have almost no presence or charisma.  I'm sure that his fans describe him as "crazy and awesome live", but in reality, it's more like nu-punk act Rise Against, coming off as very forced and far from genuine.  It's mock enthusiasm and it's anything but exciting.
Foster the People was the same way.  They consistently sound bored and forced in their recorded music and they're no different live, despite the massive crowd that they had gathered.  They released a single, "Pumped Up Kicks", late in 2010 to mediocre reviews, but positive Youtube comments.  They're on Interscope, but everyone believes them to be an indie band.  This marketing strategy is ingenious: releasing a single song with minimal fanfare and give it time to gain word of mouth popularity, allowing people to "discover" it on their own.  Again, people love being the "first" to hear something, whether or not they actually are.  It makes them feel informed and musically aware.  By the time that the festival season arrives, you've got a band with significant mainstream buzz that people still perceive as indie.  "Pumped Up Kicks" is even a little edgy, with lyrics about shooting children.  It might seem like a taboo topic, but it's clearly trying to offend only for the sake of offending.
Foster's live set filled up the small area in front of the Yeti stage more than any other act of the weekend and it was full of people that were clearly only at Sasquatch for the party.  Don't get me wrong, it's a damn good party, but that's far from the only reason to be there.  The band managed to look both enthused and bored at the same time, presumably because it's cool to be bored.  They just stood in place, wielding no charisma and not really engaging the crowd in any way.  Like the Head and the Heart, they excite people for reasons that I don't understand, but at least H&H put on a halfway decent live show.
Rewinding a few hours, I saw Black Mountain play a decent set of their folk-metal earlier in the day.  They played loud and hard, but seemed to have some inter-band feuding.  I'm not sure if he was just that they were monitoring their set time carefully or if they were legitimately angry, but, after saying something to the guitarist, the bassist left the stage before the rest of the band was prepared to.  They performed a decent midday set; perfect to relax to, but not good enough to stand up for.
I saw Guided By Voices right after that, who entertained a very small but dedicated crowd.  People had brought signs and cheered when GBV wondered "who that shitty act that came before [them]" was (Chromeo).  They commented on their lack of crowd, but were clearly aware that those seeing them were diehard fans.  Those that were there made the band feel loved.  I didn't help because I took a nap.  I like them, but I was very tired and the sun had a soporific effect during Black Mountain.
I'm glad that I got the rest that I did, because I would've kicked myself had I missed any of White Denim's excellent set.  They play bouncy, sometimes folk-infused psych rock and it works even better live than it does on their exceptional albums.  They turn up the volume and distortion considerably, creating a wall of distortion, where the vocals are equal in the mix with all the other instrumentation.  The guitarists played complex and fast lines in unison without blinking an eye. Difficult guitar solos were pulled off with nonchalant ease.  The band couldn't stop smiling, and what began as a small gathering ended up as a large crowd by the end of the set.  They let the songs ebb and flow and take on a life of their own.  The performance goes where it goes and it almost seemed as though the band had lost control of it by the end.  They'd wander in and out of songs and blend them together as they saw fit.  I'd definitely rank it among the best sets of the weekend.  I missed Wilco because I had a long drive ahead of me, but reports from people who saw it say that frontman, Jeff Tweedy commented on how great White Denim was.
I didn't see much of Macklemore's set on the Bigfoot stage, but he was my girlfriend's favorite act.  The Seattle rapper inspired hometown pride in everyone present and the crowd seemed as overjoyed as he did.  Instead of him, I saw the end of aforementioned Foster the People (bad choice) and all of Best Coast (the only show it rained for all weekend).
Bethany Cosentino, like her boyfriend in Wavves, rides a lot on personality.  Her music has more depth to it than it appears to, but it's still fairly surface level.  She creates a persona through her music, interviews, prolific tweeting, and stage performances.  Her music is fun and pleasant, but the personality that comes through is far more interesting.  It's both unique and easy to identify with, especially for females.  Her Best Coast performances are full of amusing banter and audience interaction.  The band plays tightly, but given the simple nature of the music, I'd be sorely disappointed if they didn't play everything perfectly.  The Best Coast fanatics in front seemed to love it and everyone else seemed to be enjoying themselves well enough.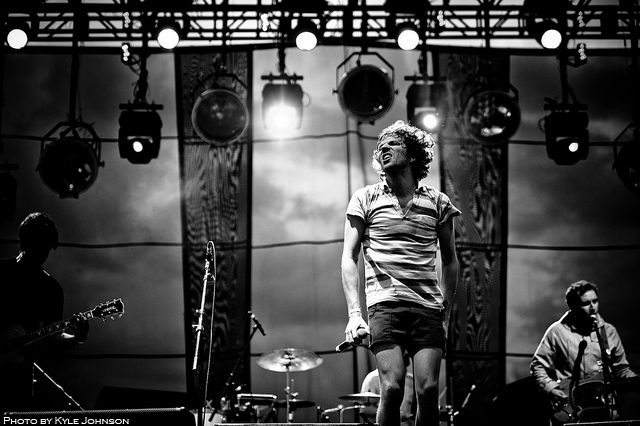 I wish that I had left Best Coast a little early and gone to see !!! (Chk Chk Chk), because they were fantastic.  Luckily, they played over their set time, so I caught most of it.  The frontman used the area in between the barriers that were splitting the crowd down the middle on the Bigfoot stage (a new and much complained about addition) as "his personal runway", running up and down it and almost jumping into the crowd on several occasions.  The rest of the band didn't do much, but they seemed to enjoy watching his over the top antics.  He climbed partially up the rafters on the stage, pulled out his electric, sparkly coat and had everyone doing their own versions of his dance.  They played two new songs that sounded like their old songs and served as a reminder that, while they may be a fun live act, it's not 2003 anymore.
The last show that I saw was psych/noise/ambient-punk act Deerhunter, who was the perfect closer.  I fucking love Deerhunter and this was my fourth time seeing them in a little over two years.  They're an unpredictable and occasionally great live act and I've never had the same experience twice.  The first time that I saw them, at Neumos (Seattle) in late 2008, was one of the best concert experiences that I've ever had and, when I saw them open for Spoon in 2010, it was one of the weirdest.  They change their approach constantly and this time was no different.  The band played just as it was getting dark and used a more expansive light show than they had in years past.  They didn't move around much, but performed with cool confidence and assured presence.  The guys operate remarkably well as a band, expanding many of the songs in just the right ways.  Vocalist/guitarist, Bradford Cox still revels in a good long noise-psych jam, and they were in no short supply.  It occasionally seemed like they didn't know how to end a song, but that just meant it wandered in more interesting directions.  Deerhunter is an unpredictable band, both as recording and performance artists, and they are never boring.
We were about to head over to Wilco when my girlfriend reminded me that it was 10Pm and that we still had a drive to Tacoma ahead of us, followed by a drive to Bellingham.  I arrived back in my apartment at 5:45 Am the next morning, assembled a portfolio on adolescents who stutter, did a presentation, then promptly passed out for ten hours.  It was completely and totally worth it.  Sasquatch is more than a music festival, it's an experience.
Here are a few lists I've compiled, rating the entire Sasquatch! 2011 weekend:
Top 10 Acts
1. Modest Mouse
2. Flaming Lips
3. White Denim
4. J Mascis
5. Death From Above 1979
6. Twin Shadow
7. Deerhunter
8. Fitz and the Tantrums
9. Local Natives
10. Sleigh Bells
Top 5 Worst Acts
1. The Radio Dept.
2. Bassnectar
3. Foster The People
4. Bright Eyes
5. Head and the Heart
Worst Food
1. Burger
2. Philly Cheese Steak
3. French fries (No salt? What the fuck?)
4. Noodle Bowls
5. Dominoes Pizza
Best People
1. The girl who only wore pasties. (That's commitment.)
2. My buddy, strung out on E during Flogging Molly
3. The high guy who couldn't find the porta-potties, while standing next to them
4. The girl who was so happy to see Macklemore she cried.
5. Wayne Coyne and his larger than life personality