March 12, 2010 in Global Destruction, Music, PSA, With Video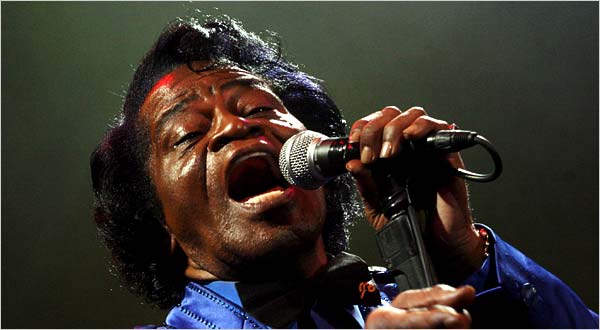 On Christmas day of 2006, James Brown died at the age of 73.   The official cause of death was determined to be congestive heart failure, brought on by complications with pneumonia.   To anyone that remembers his haggard mugshot and takes into account the age of this man and the life he lived, it shouldn't have been much of a surprise.  He was an amazing innovator who had a great run and left a stamp on the world forever, but it appeared that "The Hardest Working Man in Show Business" was all worked out.  Although the 3 separate New Years Eve performances/appearances that he was slated to make were canceled due to his demise, that didn't mean that the spectacle was over. In fact, there was 3 separate memorial services held for him instead.  The first was at the Apollo Theater in NY on Dec. 28th, followed by a private memorial for family and friends in North Augusta, SC on the 29th, and then another large scale event on the 30th at James Brown Theater in Augusta, Ga.  Throughout these various services/presentations, the following was included: a open gold casket, a white glass-encased horse drawn carriage to transport it through the streets of New York, nachos, Michael Jackson, Bootsy Collins, a dance by MC Hammer, costume changes for the body, and more (yes… we're fucking serious).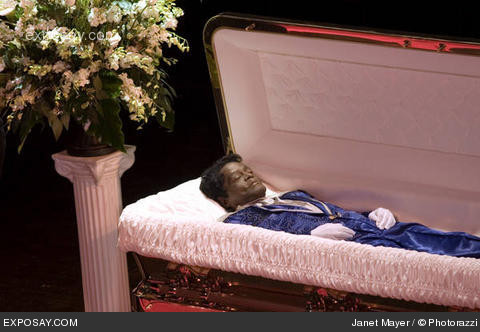 As is far too common these days with the deaths of celebrities, and even more-so legends, there was a lot of disputes regarding both Brown's will and where his final resting place had been.  Much like we witnessed last year with the death of Michael Jackson, family members and others actually argued about where to rest the musician's body.  They had already transported it all over the goddamn East Coast as it was, so I guess they figured that they could shift it around a bit more.  I'm sure it's all in keeping with whatever they feel James would have desired because, honestly, who wouldn't want their lifeless corpse dragged around by horses, redressed constantly, put on display, and then buried and reburied after their death?  First his body was temporarily placed in a temperature controlled room at his estate, before being moved to an "undisclosed location", as his common-law widow, Tomi Rae Hynie, and his children viciously argued about where it's permanent resting place should be.  It only took a little over 10 weeks after his death for both sides to come to an agreement "amicably".  The decision was to build a public mausoleum and, in an effort to keep milking the cash cow, transform the former legends estate into an attraction the likes of Graceland.  Until then, it was chosen for the body to be held temporarily in a crypt at the home of Brown's daughter Deanna Brown-Thomas.  Another private ceremony was held at Thomas' home, which was officiated by Reverend Al Sharpton, just like the previous 3.  Since that date on March 10, 2007, this is where the body has been laid to rest (or rather, "SNOOZE") for the last 3 years.  Or has it?
As reported by the New York post, a 48 year-old woman by the name of LaRhonda Pettit is actually claiming that JB's body has gone missing. Read the rest of this entry →